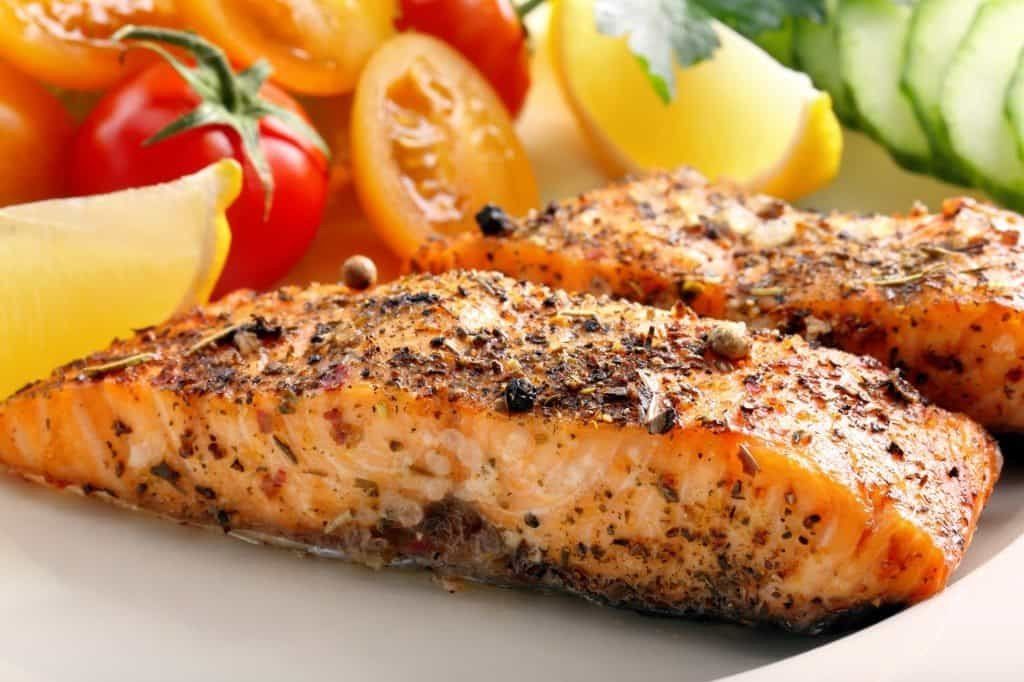 Salmon is an excellent source of Omega 3 fatty acids DHA and EPA which are essential for brain growth and function. This makes salmon a "super brain food".  It is commonly seen that those who eat salmon at least twice a week have sharper minds. Salmon is loaded with powerful omega 3's and rich protein. Salmon is great for your heart and brain health.
Here's a great grilled salmon recipe we hope you will enjoy!
Honey-Ginger Cedar Plank Salmon Recipe:
Ingredients
1 lb. lemon, plus slices for garnish
2 tsp. grated peeled fresh ginger
1 large piece skin-on wild Alaskan salmon (about 2 lbs.)
3 tbsp. lower-sodium soy sauce
2 tbsp. honey
1 tbsp. Sriracha hot sauce
1 clove garlic, crushed with press
4 c. packed arugula, plus more for garnish
4 miniature seedless cucumbers, thinly sliced
1 1/4 c. cooked corn kernels (from 2 ears)
1/2 c. loosely packed cilantro leaves
Directions
Soak large cedar grilling plank (about 15-inches-by-7-inches) in water 1 to 2 hours. Heat grill on medium.
From lemon, grate 1 teaspoon zest and squeeze 1/4 cup juice; set juice aside. Combine zest with ginger and 1/2 teaspoon coarsely ground black pepper; rub all over flesh side of salmon.
Place salmon on soaked plank skin side down; sprinkle with 1/2 teaspoon salt. Grill 20 to 25 minutes, covered, or until desired doneness.
Meanwhile, in medium bowl, whisk soy sauce, honey and Sriracha; set aside half. To remaining soy mixture, add garlic, reserved lemon juice and 1/4 teaspoon salt; toss with arugula, cucumbers, corn and cilantro. Brush salmon with reserved soy mixture. Garnish with arugula and lemon slices. Serve with cucumber salad.
We would like to thank Good Housekeeping for this delicious recipe.