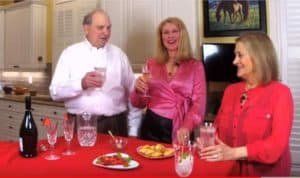 This simple and tasty Valentine's Day inspired Bellini is a drink featuring simple syrup and strawberries that is a beautiful color and slightly sweet flavor. The alcoholic version uses Prosecco. For those who don't know what that is, it is, it is an Italian wine that is served chilled. It is often used as a less expensive substitute of champagne. Prosecco usually is produced using the Charmat–Martinotti method, which means that the secondary fermentation takes place in stainless steel tanks instead of inside the bottle. This is why it is less expensive to produce than champagne.
This drink is best served in a champagne glass garnished with a mint leaf for the best appearance.
Valentine's Day Bellini Recipe
Spoon 1 or 2 teaspoons of simple sugar* and minced strawberries into a champagne glass. Fill with either champagne or prosecco and serve.

For non-alcoholic drinks, fill glass with soda water over ice, and add a sprig of mint on top for garnish and extra taste.

Make simple sugar, but mixing 1 part sugar to two parts water into a saucepan.
Bring to a simmer until sugar is dissolved and water is clear.
Add minced strawberries and swirl.
Let stand so strawberry flavor has leeched into the simple sugar.
Cool this mixture then add to drinks.
You can view our other Cooking For Love recipes here, and check out Chef Kendrick's website, Cooking For Love. Happy Valentine's Day!