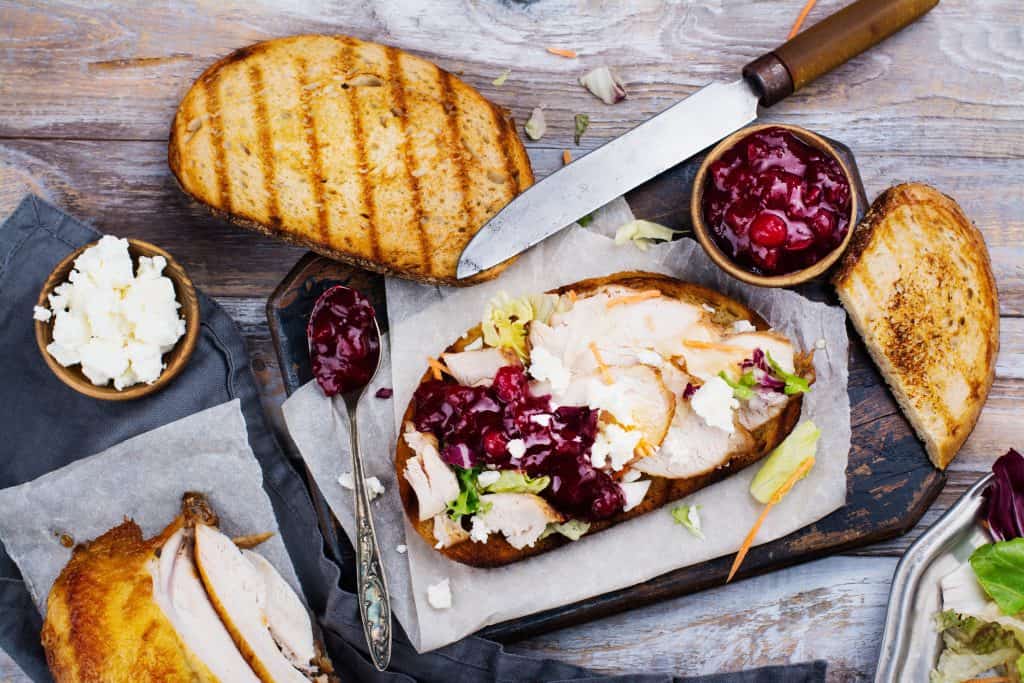 Got a ton of leftover food from Thanksgiving? Don't know what to do with it? Try revamping your previous meal into a whole new creation with tasty Thanksgiving sandwich, crescent roll, and quesadilla recipes.
To make these recipes you'll need additional ingredients, such as bread, mayo, and cheese. But the main features are the leftovers:
Turkey
Stuffing
Mashed potatoes
Cranberry sauce
Gravy
Do you have some of these Thanksgiving leftovers? If so, then these three creative leftover recipes are right for you! They include the classic Thanksgiving club sandwich as well as stuffed crescent rolls and turkey cranberry quesadillas. Enjoy!
The Ultimate Leftover Turkey Club
(Recipe from Oh Sweet Basil)
Ingredients
6 slices of whole-wheat sandwich bread
3/4 pound of leftover turkey
1/2 cup of leftover cranberry sauce
1/4 cup of mayo
6 slices of cooked veggie bacon cut in half
Sliced red onion
1/2 cup of shredded cheddar cheese
2 ounces of light cream cheese
Lettuce
Directions
Preheat oven to 350 degrees.
In a small bowl, mix mayo and cranberry sauce together.
Spread cranberry mayo on all six pieces of bread. Pile 1/4 of the turkey onto two slices of bread and top with lettuce, followed by two slices of veggie bacon, cheddar cheese, and red onion. Place the other piece of bread on top, cranberry side down.
Spread middle piece of bread with one ounce of cream cheese. Top with turkey, followed by lettuce, veggie bacon, cheese, and red onion.
Place toothpicks in corners of sandwich.
Place on sheet pan and bake until cheese is melted.
Turkey Cranberry Quesadillas
(Recipe from Julie Espy at A Night Owl Blog)
Ingredients
2 to 3 tablespoons of prepared cranberry sauce
1/4 cup of shredded or diced turkey meat
1/2 cup of shredded Munster cheese
1 – 10″ to 12″ flour tortilla
1/2 tablespoon of unsalted butter
Directions
Heat a large skillet over medium heat. Lightly butter one side of the tortilla and place butter side down into the hot skillet.
Spoon cranberry sauce onto one half of the tortilla, and carefully spread it over half of the tortilla. Top cranberry sauce with half of the cheese.
Spread turkey meat evenly over the cheese, and top with remaining cheese. Fold tortilla in half so the filling is covered and the buttered side is now up.
Cook for two to three minutes per side, until the tortilla is golden. Remove from skillet and cut into pieces.
Thanksgiving in a Blanket
(Recipe from Delish) 
Ingredients
1 tube refrigerated crescent rolls
3/4 cup of shredded roasted turkey
3/4 cup of prepared stuffing
3/4 cup of prepared mashed potatoes
1 cup of cranberry sauce
1/4 cup of prepared gravy, warmed (for serving)
Directions
Preheat oven to 375 degrees F. Line a large baking sheet with parchment paper.
On a lightly floured work surface, roll out crescent rolls. Top with mashed potatoes, turkey, stuffing, and cranberries. (You'll want just a small spoonful of each.) Roll up and transfer to prepared baking sheet.
Bake until golden, 12 to 15 minutes. Serve with gravy for dunking.