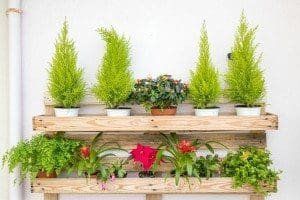 A properly equipped potting station (also known as a potting bench or gardening table) is like command central for a gardener. It typically holds seeds, soil, fertilizer, pots, water cans, and gardening tools. When you don't have a garden, a potting station can also double as a showcase for your plants. With a little ingenuity, you can create these five easy DIY potting benches as your weekend project.
This week, garden clubs across that country are celebrating National Garden Week. You can celebrate too by creating a potting station and getting more involved in gardening activities. Potting stations can fit anywhere—in your backyard, on your patio, or even on your balcony.
Listed below are five DIY potting bench ideas for your house.