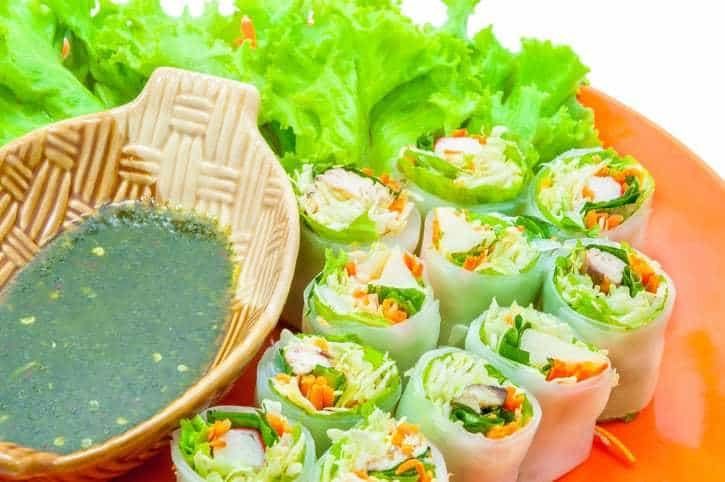 Light and Yummy Summer Treat
Summer is finally here and lots of us are looking for lighter recipes that don't require hot stoves or ovens. Well, look no further! Check out this recipe for summer BLT (bacon lettuce tomato) rice paper rolls. It tastes like the traditional sandwich, but instead of heavy bread, this dish uses rice paper. So, if you're looking for a twist on a classic, this summer BLT recipe and avocado dipping sauce may be just what you need.
A Nutritional Super Star
This BLT roll recipe calls for some nutritious ingredients including tomatoes and avocado. Avocados are rich in fiber, vitamin C, and potassium. And tomatoes can reduce heart disease risk in many individuals.
Hungry yet? Listed below is a creative BLT recipe from Kathleen at Hapa Nom Nom.
BLT Summer Rice Rolls
(Recipe from Hapa Nom Nom)
Ingredients
Avocado Dipping Sauce
1/2 of one avocado
1/4 cup of creme fraiche
1 tablespoon of fresh lemon juice
Kosher salt
freshly ground black pepper
Bacon Lettuce Tomato Rolls
6 rice paper rounds
12 baby romaine lettuce leaves
6 slices of cooked bacon or vegan bacon
1 large tomato, seeded and sliced
Directions
In the bowl of a food processor, add the avocado, creme fraiche, lemon juice, and mint leaves. Add 1 tablespoon of water at a time until you reach your desired consistency. Add salt and pepper to taste. Refrigerate until ready to use.
Fill a large bowl with room temperature water. Working with one rice paper wrapper at a time, dip it into the water so the entire round is submerged. As soon as you have wet the entire round, remove it from the water and lay it on your work surface (the rice paper wrapper will be fairly stiff, but it will continue to soften as you work).
Place a lettuce leaf in the center bottom third of the wrapper. Then top with a slice of bacon (or veggie bacon), some sliced tomato, and top with another lettuce leaf.
Fold each side of the wrapper over the filling. Then roll up from the bottom, while using your fingers to compress the filling into the wrapper. Roll tightly.
Slice each of the rice paper rolls in half and serve with the avocado dipping sauce.
Bonus Tip
Not sure how to form the rice paper rolls? Check out this video from Hapa Nom Nom.
Serving Options
Need serving options for your BLT roll? How about a summer watermelon salad made from watermelon, cucumbers, mint, feta cheese, and pistachios? It makes a refreshing side dish.