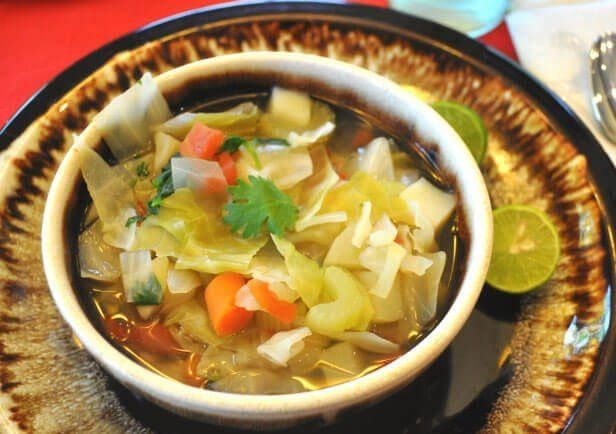 Join Our Resident Chef
Join Chef Kendrick on our new show, Cooking for Love, featured on the Mindful Living Network. Try this wonderful, healthy, simple, cabbage soup.  It's flavorful, packed with nutrients, reheats and freezes well. This soup is a great recipe for keeping healthy and maintaining resistance to diseases. Besides being low calorie, low fat, dairy free, gluten free, and vegan, it has other health benefits you may not be aware of.  Just chop, sauté, and enjoy.
Power Packed Nutrition
Cruciferous vegetables need to be an essential part of all of our diets for our health. Cabbage is a cruciferous vegetable and is loaded with vitamins, minerals, and antioxidants. These powerful antioxidants reduce inflammation that cause diseases. They have been shown to reduce your risk of heart disease, cancer, hypertension, cholesterol, and any disease linked to chronic inflammation.  Garlic throughout history has been know for it's medicinal properties. It is a powerful tool for your health and longevity. Garlic can reduce your blood pressure and cholesterol levels while also reducing your risk for heart disease, cancer, and your risk of getting a cold. It's antioxidant enzymes may reduce your risk for Alzheimer's and dementia. Tomatoes are loaded with the antioxidant lycopene which has many health benefits such as reducing your risk of cancer and heart disease.
Yummy Cabbage Soup
Ingredients:
1 1/2 Tbsp olive oil
1 small cabbage
3 carrots
3 celery stalks
1 yellow onion
2 garlic cloves
Optional: 1 shallot, or 2 Tbsp. shallot, minced
Optional:  Red bell pepper diced
1 1/2 cups green beans (fresh or frozen)
1 (14.5 oz) can petite diced tomatoes
6 cups low-sodium vegetable broth
1 tsp oregano, basil
Optional: 1/2 tsp. Sweet Curry
Optional: 1/2 tsp. Coriander seeds, crushed
Optional: 1/2 tsp. Cumin
Salt and pepper
3 Tbsp minced fresh parsley
Optional: Spices: 2 Tbsp Italian seasoning (or mixture of 1/2 tsp. oregano, thyme, basil, sage, and 1/8 tsp paprika plus bay leaf for Provencal flavor
Directions:
Heat oil over medium high heat in dutch oven or large pot.
Sauté cabbage, carrots, celery for 5 minutes.
Then add onion, and garlic cloves (and optional shallots) and cook for 2 minutes or until soft.
Next stir in green beans, cabbage, (optional red pepper) tomatoes, veg. broth, seasonings and taste to check seasonings.
Bring to boil, then reduce to medium and simmer for 20 minutes or until vegetables are soft. Serve hot.
Option: Can add 1 small can of drained cooked Cannellini beans or kidney beans for protein. If adding beans, then adjust all seasonings.
Taste.
Add to simmering soup and cook until finished.
Serve hot.
Serves 8.
You can also view our other Cooking For Love recipes here, or check out some other cabbage soup recipes on Epicurious.