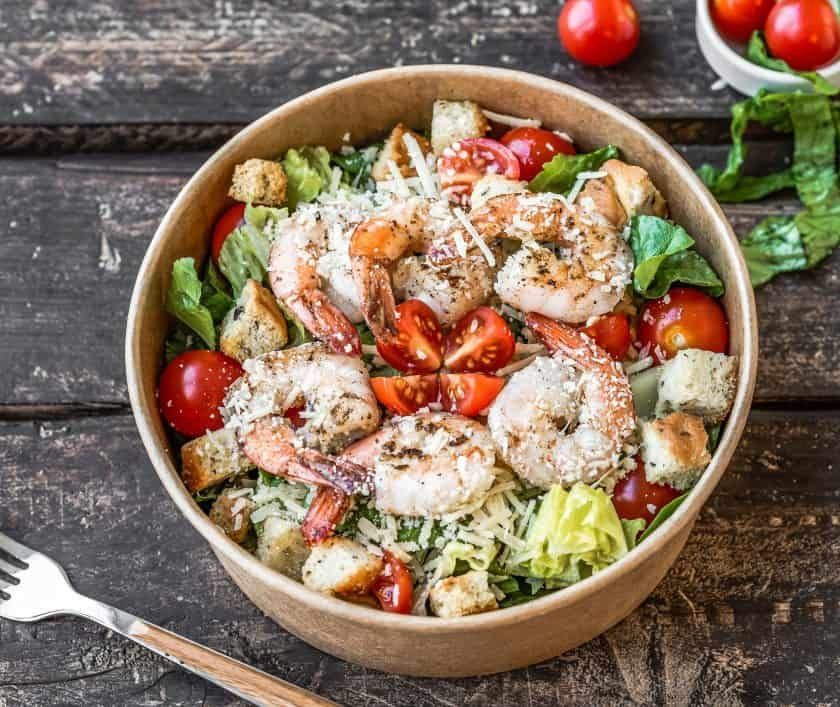 Who doesn't love a crisp, tangy, yummy Caesar salad? A delicious Caesar is tasty for lunch, dinner, or daytime snack. There are many great health benefits of Romaine lettuce including an excellent source of vitamin A and C, beta-carotene, fiber, folic acid, and potassium. All of these make Romaine lettuce very heart-healthy.
Top your Caesar salad with spicy grilled shrimp and Parmesan crisps for a summery twist on the classic. Want to try some different flavors and nutrition? Substitute grilled salmon, loaded with powerful omega 3's and rich protein, instead of the grilled shrimp.
Ingredients
2 hearts romaine lettuce
Creamy Caesar Dressing
Spicy Grilled Shrimp
Parmesan Crisps
Directions
Separate leaves from Romaine lettuce hearts. Cut largest leaves into 2-inch pieces; keep smaller ones whole. In large bowl, toss all Romaine with creamy Caesar dressing.
Place the Caesar salad on plates; top with spicy grilled shrimp and Parmesan Crisps.
Salmon Caesar Salad: Prepare as directed but substitute grilled salmon for shrimp. With fork, flake fish into 1/2-inch chunks. Each Serving: 390 calories, 40 g protein, 5 g carbohydrate, 22 g total fat (5 g saturated), 1 g fiber, 104 mg cholesterol, 495 mg sodium. Thanks to Good Housekeeping for this delicious recipe.