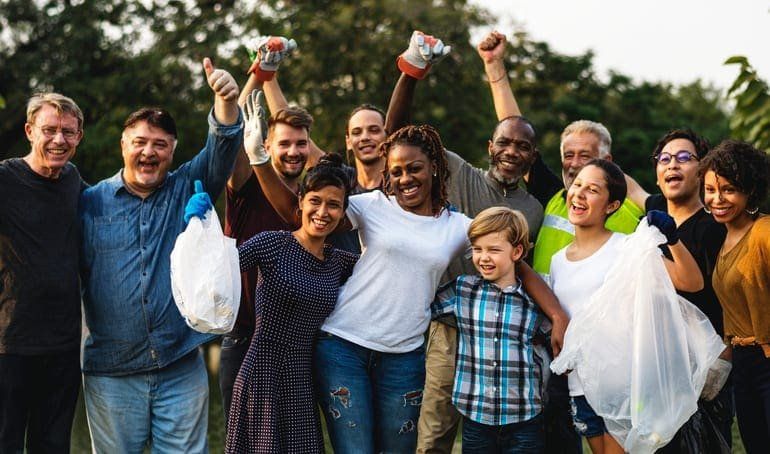 Spring is the time for our ancient ritual of spring cleaning. Instead of dreading this annual organizing and cleaning period, get inspired by new approaches. Spring cleaning doesn't have to be a personal or family affair. Why not ring up your neighbors and get a plan going? You and your neighbors can make it a community clean up weekend.
Spring Community Clean Up
To get your neighbors involved, consider the Mindful tips for community spring cleaning listed below.
Set a date. Whether people need to clean their basement, garage, or attic, your community can pull together to see that everyone's spring cleaning goals are accomplished. At a neighborhood meeting, make plans for a community spring clean up. Vote on which date would work best for as many families as possible and save the date on a neighborhood calendar.
Get a dump container. Have a neighborhood meeting and together rent a refuse container that would be parked in a designated driveway or community parking lot (at the activity center or neighborhood pool area). At this makeshift dump site, be sure to have other containers and designated areas so people can bring goods to recycle or donate to Goodwill or the Salvation Army.
Share the burden. Make it a community affair. Each participating member should commit to helping each other, whether it's babysitting, prepping energizing snacks, lifting heavy items, or creating a social atmosphere. Having people around makes the work go by faster.
Make it fun. Play music all day, keep snacks and drinks available and have plenty of games for the kids. Turn your neighborhood clean up event into an organized and efficient party. This can become a neighborhood bonding ritual, as well as a tradition that your neighbors can schedule every year.
Include the kids. When you share this work with your neighbors, you are setting an example for your children. Let them get in on the action. Have them clean up any trash on the lawn, the sidewalk, or nearby areas. Or have the kids help organize the recyclables. What a gift it will be for your children to learn this great leadership skill.
Neighborhood yard sale. If there are any leftover items that are not thrown away, donated, or recycled, consider having a yard sale. You can split the profit among the group, donate the proceeds or use the funds for another community party.