Join Chef Kendrick Dopp on our new show Cooking for Love featured on the Mindful Living Network. Try this simple and tasty sweet potato mash recipe:
3 potatoes, peeled or half peeled
6 Tbsp milk
4 Tbsp butter
6 Tbsp maple syrup or brown sugar
Cinnamon to taste
nutmeg to taste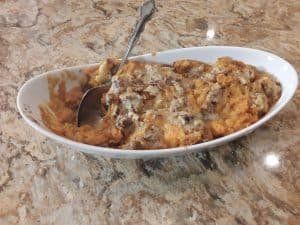 Directions:
Steam or boil sweet potatoes in water
20-30 min till soft (cut smaller sizes for shorter cook time)
Drain potatoes and pour into medium sized bowl.
Mash by hand with a hand masher
Then add:

Butter
Warm milk
Brown sugar or maple syrup
cinnamon
nutmeg
This sweet potato mash is a delicious side dish that can be served "as is" and can made year round. To make more festive, you can add an optional topping.
Option: Make a crunchy topping for your sweet potato mash:
4 Tbsp butter
2 Tbsp flour -gluten free
6 Tbsp sugar
1/2 cups walnuts or pecans
Mix with pastry hand mixer or fork until mixture looks like meal.
Spread on top of mashed sweet potatoes and bake at 350 for 20-30 minutes until topping is crisp and brown.
Makes 4 servings.