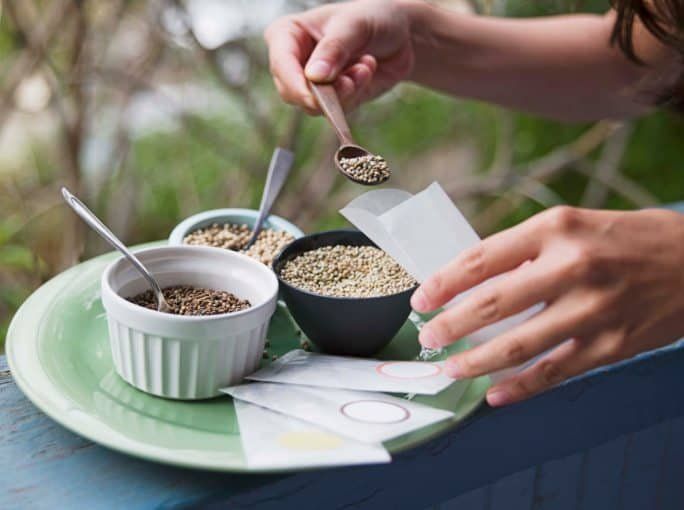 The best Mindful Gift is a personalized one, something that we make with our own hands for the people that we love. If you're looking for a few homemade present ideas, here are some mindful gifts for relaxation for you and your loved ones.
Take an afternoon off to make some mindful gifts for relaxation:
Homemade teabags
 Having a warm cup of tea is a nice way to wind down after a long day. If your friend is a tea lover, consider making your own brand of tea just for them. All you need is loose-leaf tea and additions (like their favorite herb), cheesecloth, and thread/ribbon. Remember to try the combinations first with a tea ball before filling the cheesecloth. Here are instructions for you to try.
Custom-made bath salts
 We all could do with a nice relaxing bath. Consider giving your friend the gift of serenity with homemade bath salts in a mason jar with a personalized label. All you need is sea or kosher salt, fragrant oils like chamomile or sandalwood, and dried flowers or herbs like roses and lavender. You can find instructions here and here.
Homemade potpourri mix
 An organic gift like potpourri can refresh a room and relieve stress. You can make your own with dried fruits, herbs, flowers, leaves, oils, spices and woods from your backyard or kitchen. Consider things like rose petals, cinnamon sticks, dried apple slices, lemon peel. You can dry these items in a warm place for a few days or in an oven. Once dried, mix the ingredients and fill a container. Instructions are found here and here.
A personalized handkerchief
These delicate linens are classics; everyone should have at least one. An embroidered handkerchief can be a decorative accessory or with a few dabs of fragrant oils like peppermint or rose, it can be a sweet scented way to relieve stress and improve concentration. All you need is an embroidery hoop, a needle, embroidery floss or thread and a little ingenuity. You can find instructions here.
Crafted friendship bracelets
Friendship bracelets are a crafting staple and make thoughtful accessories. These bracelets are rooted in years of history from around the world — China, Arabia, Central America, Europe and U.S.  To make one all you need is embroidery thread, a little tape and a table (try these instructions). When picking out the colors for the bracelet consider using relaxing shades like soft blues, violets, pinks, greens and greys.