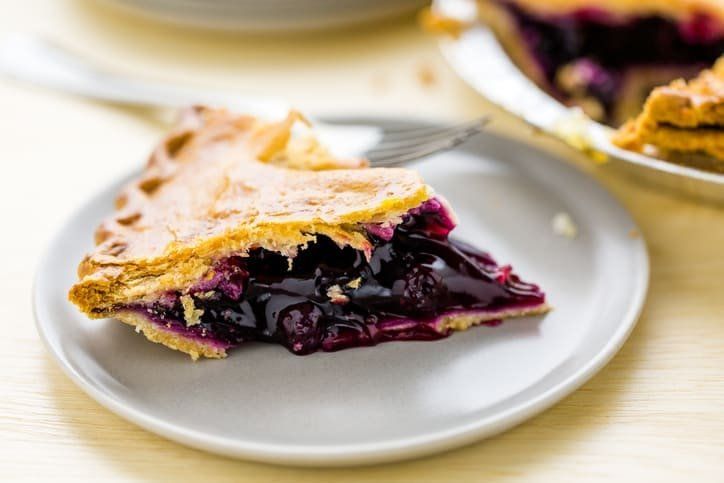 Who doesn't love blueberry pie? It's easy to make and absolutely delicious, especially when you have a Mindful recipe.
Benefits of Blueberries
Blueberries are one of the most nutritional foods you can eat. Blueberries are potent antioxidants with vitamin C and vitamin K. Half cup of blueberries provides the antioxidant power of five servings of peas, carrots, apples, squash or broccoli. These delicious berries also have fiber and minerals like manganese. Blueberries are called "youth berries," or "brain berries," because they have been shown to improve motor skills and reverse age-related memory loss. Blueberries may also prevent cancer, protect the brain from stroke and reduce heart disease.  Each serving of this great blueberry pie is like visiting a "fountain of youth."
Scrumptious Blueberry Pie Recipe
Ingredients
1 cup white sugar
3 tablespoons of quick-cooking tapioca
1/2 teaspoon of vanilla or almond extract
3 cups blueberries
1 tablespoon of lemon juice
Generous dollops of butter
Pre-made 9-inch double pie crust pastry
Directions
Follow instructions on pastry label to prep the pie crust. Leave the other pie crust out because you will form a lattice pattern over the filling later.
Combine the first four ingredients (sugar, tapioca, vanilla, and blueberries) in a bowl.
Let the mixture sit for 10 minutes in the fridge. Make sure the tapioca mixes completely in the filling.
Cut the second pie crust into half-inch strips.
Take the pie crust out of the oven and let it cool off for five minutes.
Fill the pie crust with your mixture.
Dollop butter generously on top of the filling.
Weave the pastry strips one over-and-under.
Brush egg white on pastry strip if desired for golden color. Wrap tin foil around pie edge to avoid burning the edges.
Bake for 40 to 50 minutes in an oven set at 400 degrees until the filling is bubbly.
Let the pie cool before you cut into it.
Blueberry Pie Serving Ideas
Your blueberry pie would be delicious with ice cream or with a whipped cream topping. Other people like to garnish with a dollop of sour cream. Or, if you really want to impress, consider crystallized lemon peels as a topping.