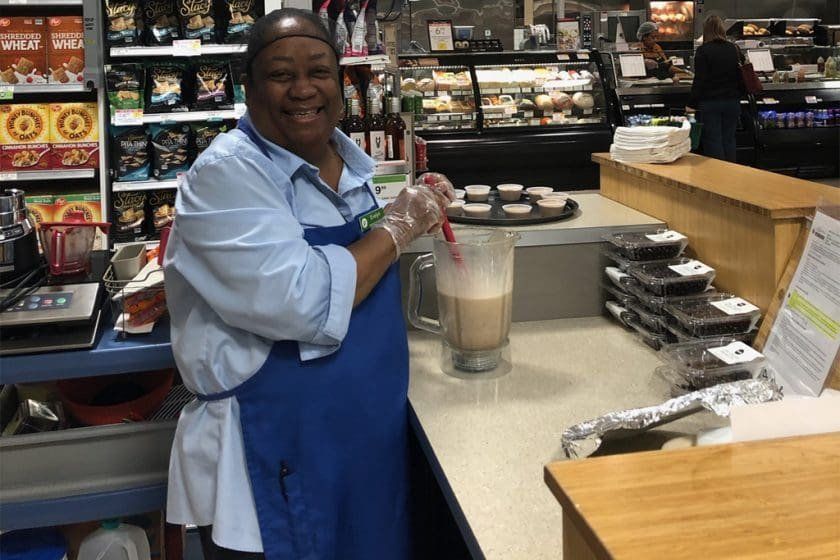 Everyone at our Publix just loves Evelyn, and they especially love her chocolate caramel macchiato milkshake too! Evelyn has been working at Publix for many years. She is always kind, generous, and helpful. She is part of the reason we love shopping at Publix. They are family. We were shopping this week and Evelyn was creating this magical, delicious, and intoxicating drink that I just had to pass on to you. Get ready for a dangerously, addictive, to die for drink. I'm in love with this chocolate caramel macchiato milkshake!
Chocolate Caramel Macchiato Milkshake Recipe
Ingredients
1 (9.2-oz) package Bakery Green Wise chocolate cake, cut into quarters
1 (32-oz) container coffee- ( or salted caramel) flavored ice cream
1 (1/2) cup whole milk or 2% milk
1 (1/2) cup caramel sundae topping divided
1 (3/4) cup chocolate covered espresso bits divided
1 cup whipped cream
Directions
Freeze cake quarters 30 minutes ( or until very firm). Set Ice cream out to soften slightly.
Place milk, ice cream, and 1/4 cup caramel in blender (in that order); process until well blended. Add 2 cake quarters and 1/2 cup espresso bits; pulse until cake is chopped into small pieces mixture is creamy.
Divide mixture among 4 serving glasses; top with even amounts whipped cream, remaining espresso bits, and remaining caramel ( drizzled over top).
Would you like even more great dessert recipes? Check them out here. Also, if you need any ingredients, may we suggest you check out your neighborhood Publix?