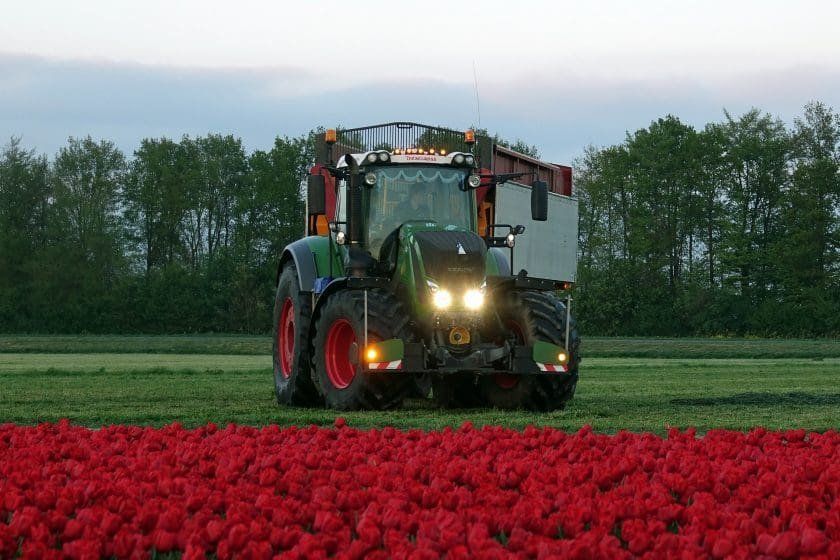 This video contains a year round compilation of the tulip cultivation at Maliepaard Bloembollen in the south west of Holland. This company has more than 130 hectares of tulips and is one of the largest tulip growers in the Netherlands and thus of the world.
They use both cultivation methods (using nets and without) which requires an extensive and impressive fleet machinery. All the following activities are done in-house:
Irrigation with 6 Irrifrance irrigation reels with boom widths from 50 to 70 meters.
Spraying using a Challenger RoGator RG 645C self propelled sprayer with 36 meters wide spraying boom.
Topping with two New Holland T6.160 Blue Power tractors with 3m and 1.80m wide topping machines.
Lifting bulbs using a New Holland T7.270 with Koops net harvester and Ploeger AR-4W in combination with an Earth Eater mobile washing machine.
Planting bulbs using a New Holland T7.270 with Koops 1.80m netplanter and a 2x 1.50 Antha van Hienen planter.
These tulips are grown for the bulbs, not for the flowers. The flowers are topped so that the plant is putting all his energy into the development of the bulbs.
The bulbs are harvested in the summer where after they been put in storage. In the fall the small bulbs are planted back in the field and the large ones are sold to greenhouse growers where they are grown and make beautiful tulips for the consumer market.
Video by TRUE FOOD TV. Learn more on their website, http://truefood.tv/