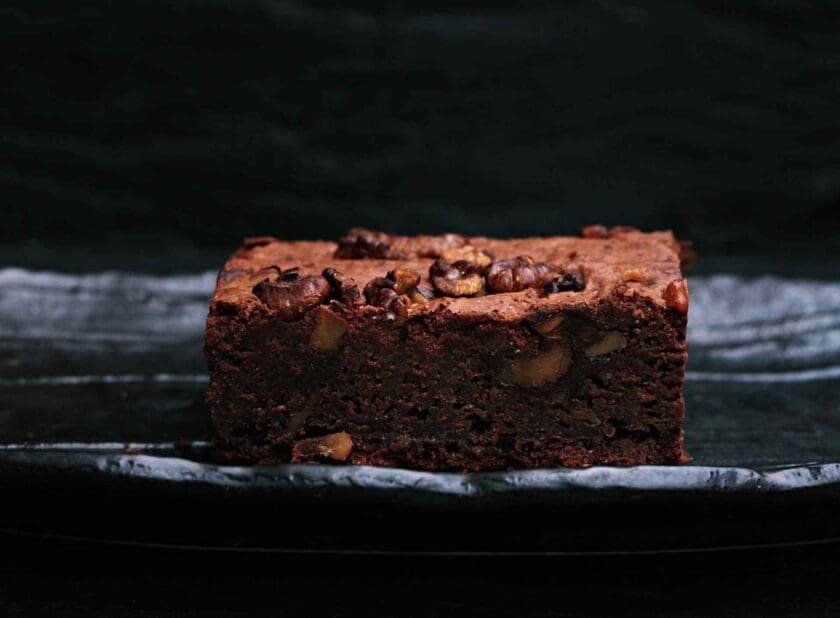 If getting healthy was part of your New Year's resolution, or just part of your game plan in general, you're probably worried about forgoing desserts. But have no fear! Your favorite sweet treats only need a healthy twist, like this recipe for healthy brownies featuring a secret (healthy) ingredient: black beans.
A Healthy Secret!
You might not think that black beans and brownies go together, but they absolutely do! The beans will add a serving of vegetables to your dessert, but the chocolate will keep the brownies from tasting beany. In fact, your family and friends won't be able to taste the difference, but their body will appreciate the nutrients!
The black beans are packed with vitamin and minerals your body needs—folate, fiber, protein, iron, potassium, magnesium, and more. These nutrients can help lower your blood pressure and prevent constipation. Black beans aren't the only healthy ingredients of these brownies. They also feature oats, which are packed with fiber that will help with your digestion and keep you feeling full longer.
If you're interested in enjoying this cool dessert, try the black bean brownies recipe listed below.
Fudgy Black Bean Peanut Butter Brownie Recipe
(Recipe from Brooklyn Farm Girl)
Ingredients
one 15 oz can of black beans, drained and rinsed
1/4 cup of your favorite creamy peanut butter
2 tablespoons of cocoa powder
1/2 cup of quick oats
1/4 teaspoon of salt
1/3 cup of brown sugar
2 tablespoons of sugar
1/4 cup of coconut or vegetable oil
2 teaspoons of vanilla extract
1 teaspoon of baking powder
1/2 cup of chocolate chips, plus a handful for decoration
Directions
Preheat oven to 350 degrees.
Combine all ingredients except the chocolate chips in a food processor. Blend until smooth and creamy.
Stir in 1/2 a cup of chocolate chips and mix with spoon so they are equally distributed.
Grease a pan and pour brownie mixture in it. Take a spatula to smooth out the top. Bake the brownies for 16 to 18 minutes.
Once out of the oven, let cool, then sprinkle the handful of chocolate chips on top. The chocolate chips will stick to the brownies better if you push them in with the back of a spatula
Bonus. Black bean brownies aren't the only vegetable-based desserts you can try. There's also purple sweet potato pie. Interested? Try this recipe for maple purple potato pie.