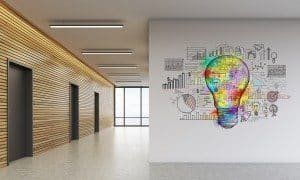 This is Part 2 of our original article, Restyle Your Office
Today, businesses are looking beyond traditional cubicles and break rooms for their office spaces. They are trying new interior design techniques to maximize efficiency and creativity. Last week we took a quick look at some ways people enhance their offices with creative plant arrangements, play areas, and creative wall designs.Here are a few tips on how to restyle your office that may spark your interest.
Three ways to get creative with your office space
1. Office murals
Office murals make a beautiful addition to any workspace. It can make your office feel more inviting for your workers and it's a great conversation piece for guests or clients who come to visit. Some people hire a local artist to create a lovely design on an office wall, but the centerpiece doesn't always have to be art. It may sound cheesy, but painting encouraging words, quotes from role models, or a poetic mission statement is a great idea for office murals. If you hesitate to paint on the walls, check online for inspirational wall decals.
2. Hammocks, swings, and other creative seating
Most of us spend our workdays sitting and, unfortunately, even the most comfortable desk chair can feel like a rock sometimes. Having other seating options for your employees is a good idea. Couches and lounge chairs are great options but don't be afraid to get even more creative. For instance, Eventbrite's San Francisco office features a "Hammock Room," which looks especially cozy. The San Diego office of Pirch (a lifestyle retailer) features a conference room with swings for chairs.
3. Office pods and community workstations
Sometimes it's best to forgo the cubicles altogether. Community workstations can encourage communication between different people, different departments, and help create a more harmonious working environment. You can set up working booths (like at a restaurant) or invest in unique quiet spaces (or office pods) that your employees can share. If your employees hesitate at the idea of community workstations, consider investing in innovative cubicles. Abeo Designs has created cubicles from salvaged materials and their design still makes an office feel open and airy.
Looking for other innovative ways to boost efficiency and happiness in your workers? Consider investing in treadmill desks. Find out more here.