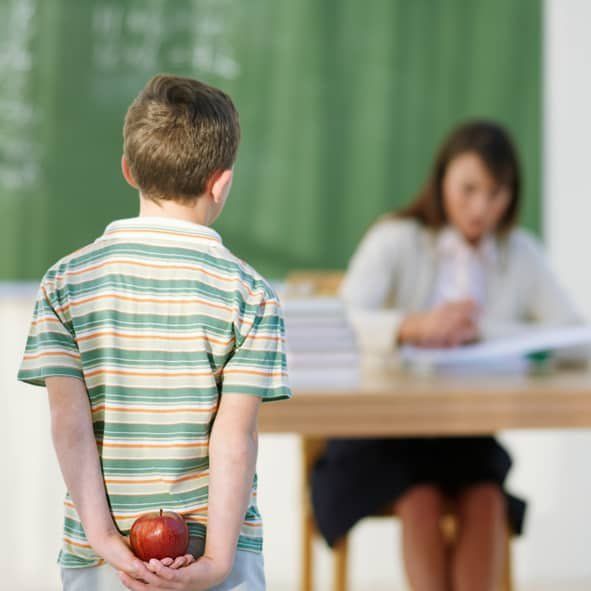 Start the new school year on the right foot or make your child's teacher's holiday extra special with a mindful gift. Providing your child's teacher or caregiver with a small gift will help you learn more about them and show your appreciation for all the work they do during the school year. Here are a few teacher gift ideas that are sure to bring a smile:
Apples are the quintessential gifts for teachers, but where did the tradition come from? Apples were known to symbolize growth and luxury since they were difficult to cultivate long ago. According to some reports during the 16th and 18th century, poor school children in Denmark and Sweden gave apples to teachers as means of payment. And during the Depression, American students gave apples to struggling teachers.
Here are a few teacher gift ideas that expand beyond shiny, red apples:
Gift Cards. Teachers will appreciate a gift card no matter the amount. Some fail-proof ideas include gift cards to bookstores, local cafes, and educational supply stores like The School Box. With gas prices being the way they are, a teacher who drives to work every day would appreciate a gift card for gas.
School supplies. Teachers need school supplies and materials for the classroom. Unfortunately, they usually have to purchase these things themselves. So why not help them out. A pack of dry erase markers, an assortment of chalk, a package of Sharpies, Kleenex, or dry erase board cleaner with a short note would be welcomed.
Baskets full of treats. Offer the new teacher a small basket or container full of sweet treats like chocolate candies and freshly baked cookies. Try salty snacks like pretzels and crackers. Or for a healthy snack try fruit, graham crackers, and baked chips.
Personalized presents. Gifts like water bottles, mugs, stationery, notebooks, and stamps can be personalized with the teacher's name. You can have these items personalized at a store. For water bottles or mugs you can let it your children personalize the items themselves using special paint.
A new spin on apple gifts. If you want to stick to apple-themed gifts consider going beyond the produce. Teachers love handmade gifts from their young students. Your kids can make papier-mâché apples or hand-painted apple notecards and write messages on them, wishing their teachers a good year.