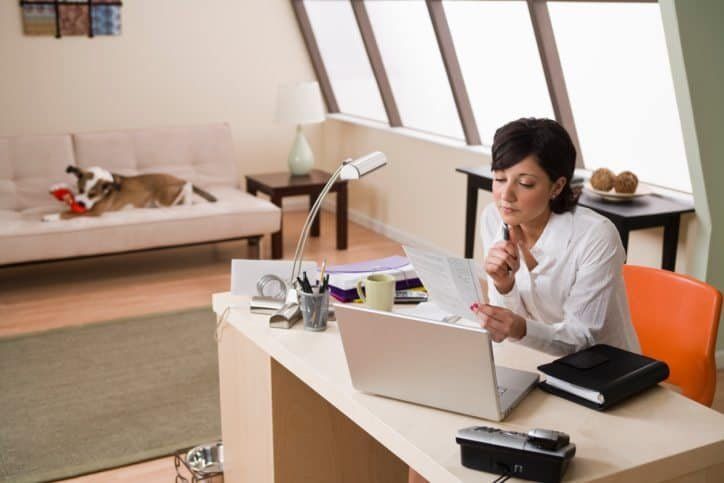 Working at home is the dream for many employees. They long to save money on gas and answer their email in their pajamas. And while many argue that working in an office is best, there seem to be many health benefits of telecommuting.
The leaked memo from the new Yahoo! CEO, Marissa Mayer, has caused quite a debate these past few weeks. In the notice, Mayer told her employees that for now on she expected them to come to the office instead of telecommuting. Experts on both sides of the debate have been discussing the pros and cons of working from home. While working from home can limit creativity and collaboration, as Mayer mentioned in her memo, there are health benefits to the alternative.
5 Examples of the Health Benefits You Reap from Working at Home
Extra sleep. An obvious benefit of telecommuting is getting more sleep. By cutting out your commute and opting not to dress up for work, you slim down your morning routine and maximize your sleep time. This makes for a rested, productive worker.
Nutritious lunches. Many of us skip breakfast in order to get to work on time. And when we're in the office, finding time to have lunch can be a hassle. Fortunately, when we work from home we are more likely to eat meals (especially healthy meals), which can boost our brainpower.
Reduced stress. If you're stressed about work than telecommuting might be for you. According to some sources, working from home reduces feelings of "burnout" among employees. Working from home allows you to be around pets and items that "de-stress" you.
A stronger heart. When employees have demanding jobs and little say over their schedules they are typically experiencing "high job strain." In ongoing research, high job strain has been linked to higher rates of heart disease. Fortunately, initial studies show that workers with schedule-control, like telecommuters, were likely to have lower blood pressure and lower heart rates during their workdays.
Helps the environment. Working from home limits the amount of the carbon output that arises during morning traffic jams. And it's an opportunity to use sustainable supplies that the main office may not consider. This adds up to a healthier environment, which is healthy for us.