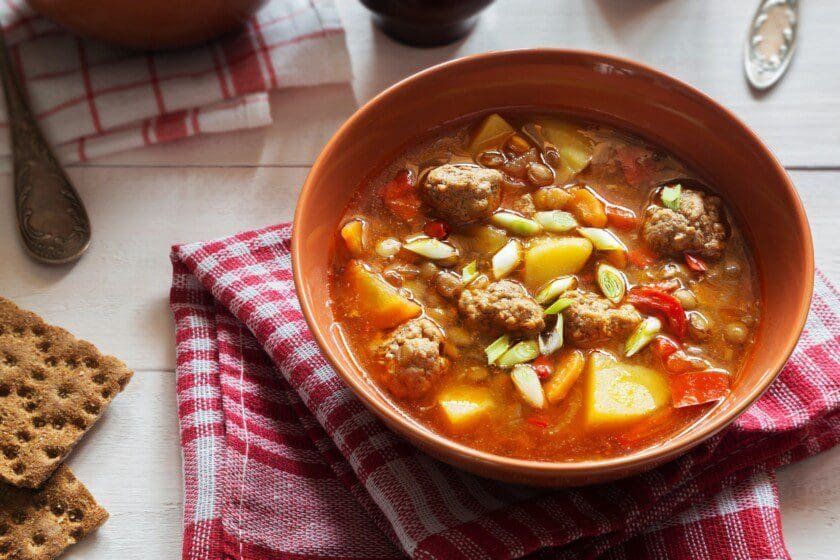 Celebrate St. Patrick's Day With Meatless Irish Stew
Why not celebrate St. Patrick's Day this year with a yummy, healthy meal? This veggie-packed vegan Irish strew is not only delicious, but it's also great for your health!
Antioxidant Busting Stew
This delicious stew is loaded with antioxidants and healthy ingredients in this soup, including carrots, parsnips, and mushrooms. The carrots are great for your eyesight and are full of vitamin A, vitamin C, and vitamin K. The parsnips are full of vitamin C, vitamin K, and folate, which can reduce your risk of heart disease. And the mushrooms are loaded with B12 to protect your cardiovascular health.
Sound good to you? If you're ready for an easy dinner, try this Irish stew recipe from It Doesn't Taste Like Chicken. It's really yummy.
Yummy Meatless Irish Stew
(Recipe from Sam Turnbull, It Doesn't Taste Like Chicken)
Ingredients
2 tablespoons of olive oil
1 package of Beyond Meat-Impossible-or-Boca Plant Based Crumbles
2 stalks of chopped celery
1 chopped yellow onion
4 cloves of minced garlic
1/4 cup of all-purpose flour
2 to 4 cups of vegetable broth
3 peeled carrots, cut into chunks
2 peeled parsnips, cut into chunks
8 ounces of quartered mushrooms
2 1/2 cups of halved baby potatoes
1/2 cup of tomato paste
2 bay leaves
1 teaspoon of dried thyme
2 teaspoons of brown sugar
3/4 teaspoon of salt
1/2 teaspoon of ground pepper
Directions
In a large pot over medium-high heat, add the olive oil. When hot, add plant based crumbles, add the celery, onion, and garlic. Sauté until the onion becomes translucent and just begins to brown. This should take about five minutes.
Sprinkle in the flour. Stir well to coat the veggies, and cook for another minute to heat up the flour. Add 2 cups of vegetable broth and stir.
Add all of the remaining veggies, tomato paste, and spices. Bring the pot to a simmer and cook for 10 to 15 minutes until the veggies are fork-tender, but not mushy. The stew will be very thick! For a thinner stew, feel free to thin it out to taste with 1 to 2 more cups of vegetable broth.
Remove bay leaves before serving, and serve hot.
Looking for another Irish recipe to enjoy for St. Patrick's Day? Try this recipe for St. Patrick's potato and leek soup. It's a simple recipe with only five ingredients: potatoes, leeks, mushrooms, butter, and vegetable broth.