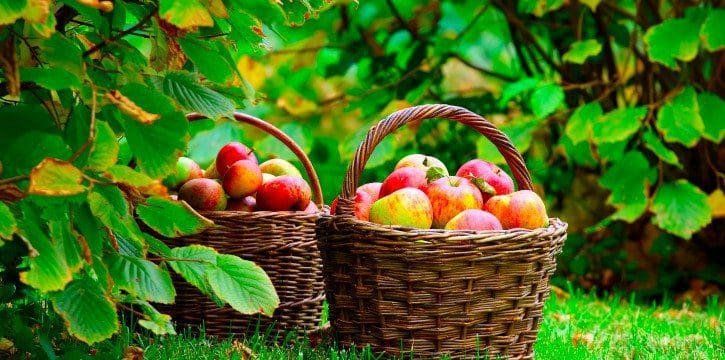 For centuries, apples have symbolized love. And it's our love for these delicious fruits that have made October, the peak of harvesting season, National Apple Month.
Apple Facts
We've been celebrating apples in America since 1904, with a National Apple Week. And in 1996, the week was upgraded to National Apple Month. Tree Top statistics describe apples as the third largest staple for US growers. The US produces twenty billion apples of 2,500 varieties every year. The average American eats about 16 pounds per year.
Apple Nutrition Facts
With all the nutrients apples provide, it's no wonder they're a favorite in America. Apples are a good source of antioxidants and dietary fiber. They are full of calcium, folate, iron, potassium, zinc as well as vitamin A, C, and K.
Apples have been proven to inhibit abnormal cell growth. For instance, the antioxidants have been proven to reduce the risk of liver and colon cancer. Apples "deliver quercetin, which makes oxygen more available to the lungs." They also lower the risk of stroke, cardiovascular disease, and coronary heart disease.
Apples and Breast Cancer
October is also Breast Cancer Awareness Month and studies show that apples have a preventative effect. In 2009, Cornell University conducted a breast cancer study with rats. Apple extract in the rats' diet caused fewer and smaller tumors. In fact, 81 percent of the control group of rats had tumors, but only 57 percent of those with low doses of apple extract and 23 percent of those with high doses of apple extract had tumors.
Apples are also great for combating obesity. The University of Iowa conducted a study with two groups of mice, feeding one group a high-fat diet and feeding the other a high-fat diet with an additional apple compound, "ursolic acid." After six weeks they found that the "apple" mice gained 33 percent less body fat, had 11 percent higher metabolic rate and stored 24 percent less fat in their liver.
Celebrate National Apple Month
Thinking about eating more apples? Think beyond the standard of Red Delicious. Consider Braeburn, Fuji, Gala, Granny Smith, McIntosh or Pink Lady; they're all tasty choices. If you're interested in adding apples to your diet in a variety of ways consider apple cider, dried apples, baked apples, organic apple juice, and applesauce. You can also try apple recipes.