Join Chef Kendrick on our new show, Cooking for Love, featured on the Mindful Living Network. Try this savory, protein-rich french lentil soup recipe that's also low calorie, low fat, dairy free, gluten free, vegan and healthy.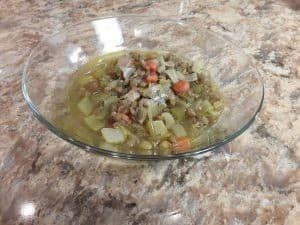 Lentils are a powerful source protein and antioxidants which has an anti-inflammatory effect. They help stop cancer cell growth, lower cholesterol, and reduce your risk of heart disease.  Lentils also help with weight loss and boost your energy. Garlic throughout history has been know for it's medicinal properties. It is a powerful tool for your health and longevity. Garlic can reduce your blood pressure and cholesterol levels while also reducing your risk for heart disease, cancer, and your risk of getting a cold. It's antioxidant enzymes may reduce your risk for Alzheimer's and dementia. Leeks are a great tool to fight inflammation in your body which drives all diseases. Leeks lower your body's inflammation and that helps with reducing your risk of cancer, heart disease, and all other disease.
French Lentil Soup
Ingredients:
1 teaspoon olive oil or grapeseed oil, or a little of both
2 large carrots , diced
2 large celery stalks , diced
Optional: 2 large leeks , thoroughly washed, trimmed and chopped (white and light green parts only)
Optional: 2 Tbsp. onions, minced
Optional: 1 Tbsp shallots, minced
2 cloves garlic , minced
1/2 cup dry red wine, (or white if you don't have red)
1 cup French green lentils (Le Puy, sorted to remove any stones, and rinsed)

Use brown lentils if you can't find Le Puy

6 cups chicken or vegetable stock
1 cup water
1 tablespoon fresh thyme leaves, chopped
Optional:1 bay leaf
Optional: 1 Tbsp. Coriander Seeds, crushed
Optional: ½ tsp. dried Marjoram leaves
Kosher salt and freshly-ground black pepper
Extra-virgin olive oil, for drizzling (optional)
Directions:
In a large, heavy bottomed pot or Dutch oven, in olive oil, cook carrots, leeks, and celery (optional onion and shallot) with ¼ teaspoon each of kosher salt and pepper.
Sauté over medium-high heat until vegetables are softened and beginning to brown.
Add garlic, and cook for 1 minute, until fragrant.
Deglaze the pan with red wine and cook for 1-2 minutes, scraping any browned bits from the bottom of the pot.
Stir in lentils, followed by stock, water, thyme, optional spices (coriander, marjoram and bay leaf if handy) and an additional 1/4 teaspoon salt.
Bring to a boil, reduce heat, and simmer, partially covered for 40 minutes, stirring occasionally.
Let liquid reduce in half, leaving a yummy dark broth.
You can also view our other Cooking For Love recipes here, or check out some other soup recipes.