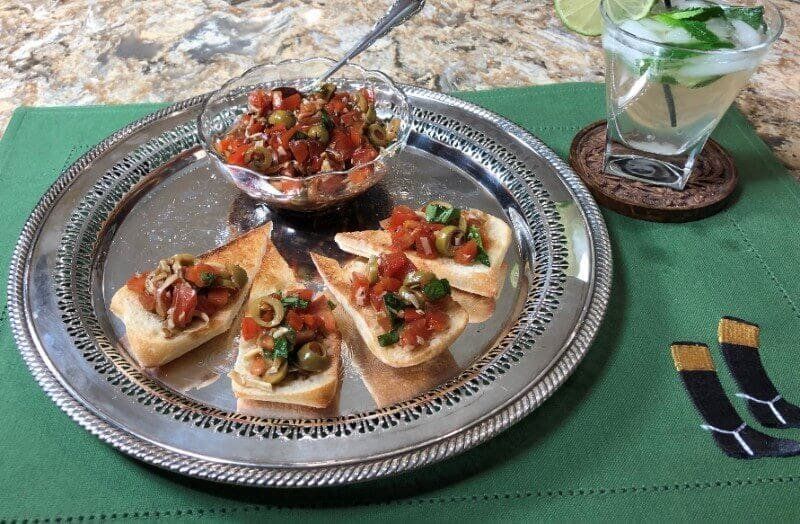 Chef Kendrick Dopp has the perfect Kentucky Derby appetizer and party idea. In this video she shows you how to make a wonderfully tasty tomato basil bruschetta appetizer. She also shows how to make a Mint Julep – the signature drink of the Kentucky Derby.
Why is a mint julep the signature drink of the Kentucky Derby? The mint julep has been promoted by Churchill Downs in association with the Kentucky Derby since 1938. In  fact, each year almost 120,000 juleps are served at Churchill Downs over the two-day period of the race. It seems that a contract arrangement between the Brown-Forman Corporation and Churchill Downs that has lasted more than 18 years, the Early Times Mint Julep Cocktail has been the designated "official mint julep of the Kentucky Derby".
Tomato Basil Bruschetta Recipe
You'll need:
 1/8 cup olive oil
1 1/2 tablespoons chopped fresh basil
1 1/2 to 2 garlic cloves, minced
1/4 teaspoon salt
1/8-1/4 teaspoon pepper
2 medium tomatoes, diced
1-2 tablespoons grated Parmesan cheese
1 small loaf (1/2 pound) unsliced petite French bread
Directions
In a large bowl, combine oil, basil, garlic, salt and pepper.
Add tomatoes and toss gently.
Sprinkle with cheese.
Refrigerate at least 1 hour.
Bring to room temperature before serving. Cut bread into 24 slices; toast under broiler until lightly browned. Top with tomato mixture. Serve immediately. This is a perfect Derby Day appetizer!
Mint Julep Recipe
Find a festive cup, like a mint julep cup or fancy high ball glass.
Place the mint and simple syrup or sugar into a julep cup, collins glass, or double old-fashioned glass.
Muddle well to dissolve the sugar and to release the oil and aroma of the mint.
Add the bourbon.
Fill with crushed ice and stir well until the glass becomes frosty.
Garnish with the mint sprig.
Make each individually and if you have a tray, serve them to your guests on a tray, or leave the tray on the dining table with cocktail napkins.  You can find cute paper napkins or cloth.  If you can find anything with horses on them, that would be awesome.  Just have fun with it and make it a conversation starter. Your guests will love them!  They're not only beautiful drinks, but delicious too!  Enjoy!