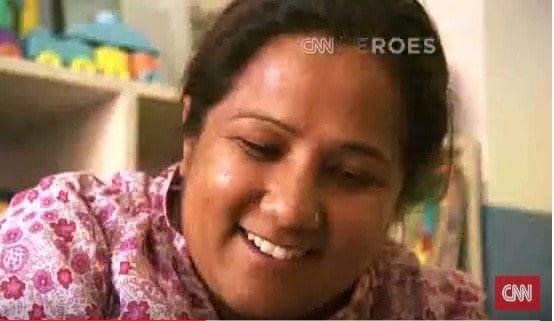 Since 2007, CNN Heroes has recognized people, like Robin Lim, who are changing our world. This year, one of the heroes is the Nepalese children activist, Pushpa Basnet.
In 2005, Basnet found her calling as a college student studying social work at Kathmandu University in Nepal. One day she visited a local women's prison for her coursework and was shocked to discover that young children of inmates were living in the prison too. These children were deprived education opportunities, proper nutrition, and medical care.
These neglected children are part of a bigger problem. With the international poverty line estimated at $1.25 a day, 55 percent of the Nepali population lives in poverty. In fact, Nepal was named the 18th poorest country in the world. With these struggles, there are few government children's homes. So, if a parent in Nepal goes to jail and another guardian can't be found or can't afford to help, the children then live in prison too.
At 21-years-old, Basnet decided that it was time for action.
Two months after visiting the prison she raised enough money for her nonprofit with the help of family and friends. She started the Early Childhood Development Center (ECDC), a daycare center for children under the age of six. The program gives children an opportunity to leave the prison during the day while still giving them a chance to bond with their mothers.
A few years later, Basnet started the Butterfly Home, a residence for kids to live until their parents are released. The children in her care stay in a nurturing home, go to school and receive medical care. They can take classes for painting, yoga, languages, and computers. Basnet has helped over 140 children and currently has 40 kids living in her home.
The program is successful because everyone works together. The staff members and older children help with chores. And the parents contribute too. Basnet started a program to teach the parents to make crafts like dolls, jewelry, and bags that are sold to help ECDC. It allows them to contribute and connect with their children as well.
Basnet was named the 2012 CNN Hero of the Year on December 2nd during a special ceremony and received $300,000 for her nonprofit. You can contribute by volunteering, donating, sending supplies from their wishlist like raincoats and educational materials, or purchasing their handmade crafts.
Main article photo: Screenshot / YouTube