This chocolate crepe is a perfect Valentine's Day dessert, but trust us when we say you could serve it any day of the year with no problem. This chocolate crepe with homemade whipped cream is sure to please any dessert lover.
In case you're wondering what exactly a crepe is, here's a little background. A crepe is a type of very thin pancake, served with a variety of fillings. The main difference between a crepe and a pancake is that pancake batter has a raising agent in it, such as baking powder or baking soda, and crepe batter does not. This means that pancakes are thicker and fluffy while crepes are thin and flat.
Valentine's Day Chocolate Crepe Recipe
Yields 10 crepes
Ingredients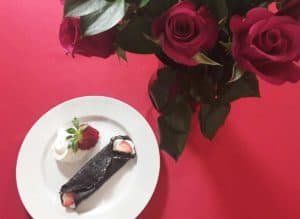 2 cups milk
1 1/2 cups flour
1/2 cup cocoa powder
6 tablespoons powdered sugar
2 large eggs
1/2 teaspoon pure vanilla extract
1/4 teaspoon salt
Directions
Gather the ingredients.
Whisk all the ingredients vigorously until the crepe batter is completely smooth; allow it to rest in the refrigerator for at least 20 minutes before making into crepes.
Melt a little butter in a crepe pan or large skillet over low-medium heat.
Add 3 tablespoons of batter to the pan and swirl until the bottom of the pan is covered with batter.
Cook the crepe for 1 minute, or until the crepe is slightly moist on top and golden underneath, or until top is solid and dry.
Loosen the edges of the crepe, slide the spatula under it, and then gently flip it upside down into the pan, or flip if you are comfortable.
Cook for 30 seconds or more and transfer the cooked crepe to a plate to keep warm.
Repeat with the remaining batter.
Homemade whipped cream
Ingredients
1 cup heavy cream
1 tablespoon maple syrup
1 tablespoon sugar
1/2 teaspoon vanilla extract
Directions
Beat the cream on high speed until it begins to thicken and gets slightly stiff.
Add the maple syrup, sugar, vanilla extract to the cream while mixing.

Continue whipping the cream until it forms stiff peaks.

Serve, or spoon generous amounts onto the crepe, then top with thinly sliced strawberries and then fold over the crepe to envelop this cream mixture.
You can view our other Cooking For Love recipes here or check out Chef Kendrick's website, Cooking For Love.