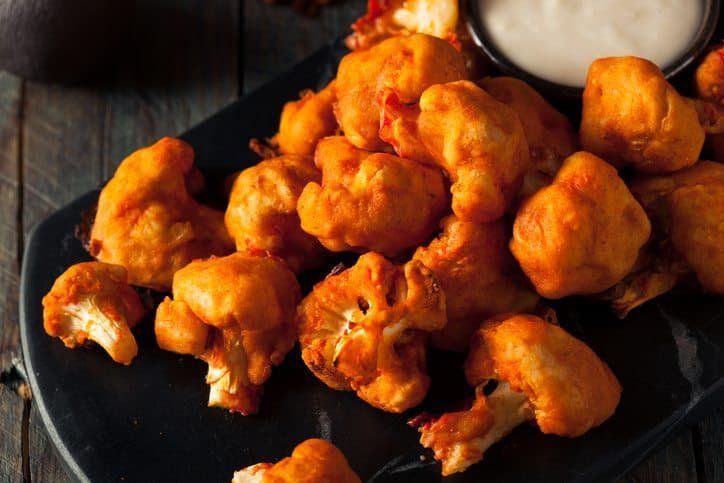 Football season is in full swing, which means lots of unhealthy game night foods—nachos, dips, pizza, pigs in blankets, and of course, buffalo chicken wings. If you're a vegetarian or simply looking for a healthier alternative, try making honey sriracha cauliflower "wings" instead.
Cauliflower is often seen as the filler ingredient in vegetable medleys. The truth is cauliflower has the nutritious power to be the star of the plate. Cauliflower is a healthy cruciferous vegetable. It's high in vitamin C and vitamin K. Cauliflower also has potassium, folate, vitamin B6, and fiber.
Are you preparing for your next game night? If so, be sure to add this recipe to your menu.
Honey Sriracha Cauliflower "Wings"
(Recipe from Layla Atik at gimmedelicious)
Ingredients 
For the "Wings"
1 head or 4 cups of florets of cauliflower
1 cup of milk
1/2 cup of all-purpose flour
2 teaspoon of garlic powder
1 teaspoon of cumin
1 teaspoon of paprika
1/4 teaspoon of salt
1/4 teaspoon of ground pepper
1 cup of panko breadcrumbs
For the Honey Sriracha Sauce
1/3 cup of honey
1/4 cup of sriracha
1/4 cup of ketchup
1 tablespoon of sesame seeds (optional)
Directions
Preheat the oven to 400ºF.
Wash and cut the cauliflower head into bite-sized pieces/florets. Place panko breadcrumbs in a shallow bowl.
Mix the milk, water, flour, and spices in a medium-size mixing bowl.
Dip the cauliflower in the batter, shake off excess the batter, and dip the florets into the panko breadcrumbs. You can do this one by one or in batches.
Lay the cauliflower single layer on the baking sheet. Drizzle with oil olive and bake for 20-25 minutes or until the crust is crispy and golden.
In a large bowl, whisk the honey, sriracha, and ketchup. Remove "wings" from oven and toss in the honey sriracah sauce and sprinkle with sesame seeds.
Bonus. Want to have homemade fries with your cauliflower "wings?" We've got two delicious recipes for you. If you're looking to add more vitamins and other nutrients to your meal, consider making homemade baked sweet potato fries. Or you can make colorful fries that your kids will love, like purple French fries with sea salt. You can find the recipe here.