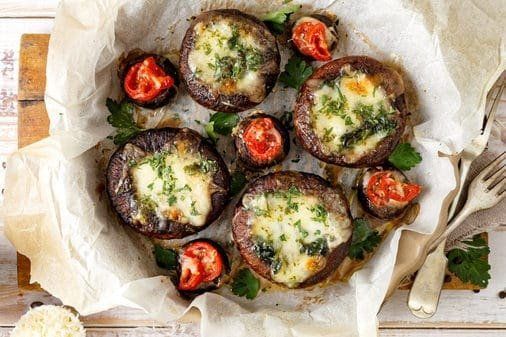 Mushrooms Are Healthy
If you love mushrooms and Tex-Mex food, we've got a recipe for you: enchilada stuffed mushrooms. It's healthy, vegetarian-friendly, and it calls for just a few ingredients.
Mushroom Nutritional Facts
Portobello mushrooms are filled with vitamin B, potassium, and selenium. These mushrooms also have protein and fiber, which can help you stay full and fight hunger cravings. When mushrooms are apart of your daily diet, you can boost your immunity. And the nutrients in some mushrooms can help protect against certain types of cancer.
Time to get cooking! Check out this stuffed mushroom recipe from Denise at Sweet Peas and Saffron.
Enchilada Stuffed Mushrooms
(Recipe from Sweet Peas and Saffron)
Ingredients
4 Portobello mushrooms
2 tablespoons of olive oil
1/2 cup of corn kernels
1/2 cup of black beans, drained and rinsed
1 cup of enchilada sauce
1/4 teaspoon of salt
1 tablespoon of flour
1 cup of mozzarella, shredded
2 tablespoons of chives
Directions
Pre-heat oven to 450°F.
Using a small spoon, scoop the gills out of the mushrooms and brush the exteriors with olive oil. Place the mushrooms on a large plate.
In a medium bowl, whisk together the enchilada sauce, salt, and flour until no lumps remain.
Spoon around two tablespoons of corn and black beans into each mushroom. Drizzle the top with the enchilada sauce. Top each mushroom with shredded cheese.
Place the mushrooms on a baking sheet and put the mushrooms in the oven. Bake for five to ten minutes, until the cheese is bubbly, and mushrooms are softened, but not mushy.
Serving Options. With your freshly made stuffed mushrooms as the main dish, but you'll need sides. Homemade sweet potato fries is a great idea. Not interested in fries? Try a side dish of rice, such as cilantro lime rice, or a corn dish like a Mexican corn salad made with corn, cotija, chili powder, lime juice, cilantro, and mayonnaise. Lastly, you can serve your mushrooms with another mushroom dish, like a mushroom salad. This mushroom salad contains salad greens topped with sautéed mushrooms.
Bonus. Looking for another mushroom recipe? How about mushroom burgers? They're a delicious vegetarian alternative to beef or turkey burgers. This mushroom burger recipe is topped with roasted peppers, crumbles cheese, and a spicy avocado sauce. Yum!You can find the mushroom burger recipe here.