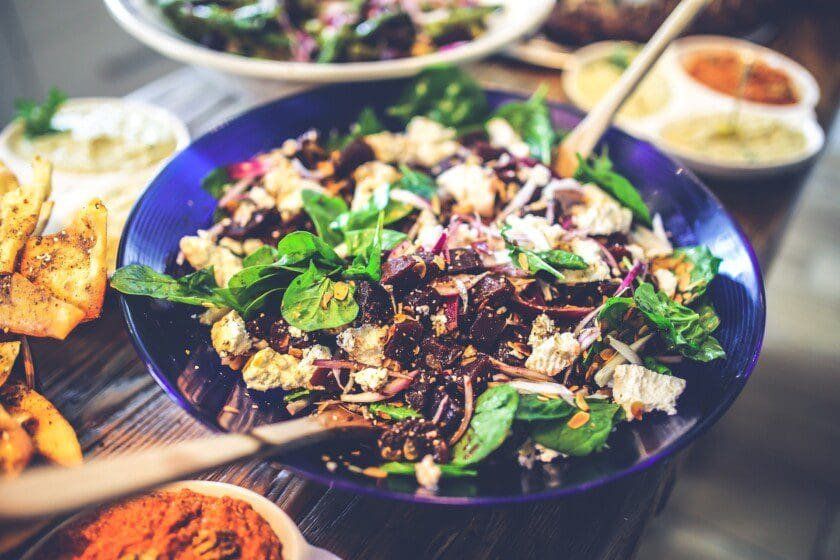 Baby Spinach Salad with Roasted Red Onions, Pecans, Dried Cranberries, Crumbled Cheese, and Citrus Dressing
This is a delicious, health-packed salad that is easy to put together. It makes a great side salad for the holidays and you can add shrimp, tuna, turkey, tofu, or chicken for a light meal.
There are a number of studies that show that eating spinach helps in the reduction of cardiovascular disease, a host of cancers, age related macular degeneration, and cataracts. Research shows that cranberries aid in heart disease, cancer, aging, and bladder problems. And pecans prevent coronary artery disease and help lower cholesterol.
Hungry Yet?
Try making this delicious recipe, courtesy of Food Network Kitchen.
Serves:
4 servings
Ingredients
1 medium red onion
2 tablespoons extra-virgin olive oil
Salt
Citrus Dressing, recipe follows
8 cups baby spinach
1/2 cup pecans,(or any nut you love) toasted and chopped
1/3 cup crumbled cheese (goat, feta, or any cheese you love)
1/2 cup dried cranberries
Directions
Preheat oven to 350 degrees F.
Slice the onion into thin wedges, through the root end. Toss with the olive oil, season with salt, to taste, and spread out on a baking sheet. Roast until just soft and brown, about 20 minutes. Set aside to cool.
Put the spinach and onions in a large bowl. Drizzle with some of the dressing and toss. Add more dressing as needed; spinach should just be lightly coated. Divide salad among four chilled plates. Top with pecans, goat cheese, and dried cranberries. Serve immediately.
Citrus Dressing:
1 teaspoon lemon zest
2 tablespoons freshly squeezed lemon juice
2 tablespoons freshly squeezed orange juice
1/4 teaspoon fresh thyme leaves, chopped
1 tablespoon Dijon mustard
1 teaspoon honey, plus more to taste
1/4 teaspoon fine salt
1/4 cup extra-virgin olive oil
Whisk the lemon zest, lemon juice, orange juice, Dijon, honey, thyme, and salt in a medium bowl until well combined. Gradually whisk in the oil, starting with a few drops and then adding the rest in a steady stream, to make a smooth, slightly thick dressing.
Yield: about 1/2 cup