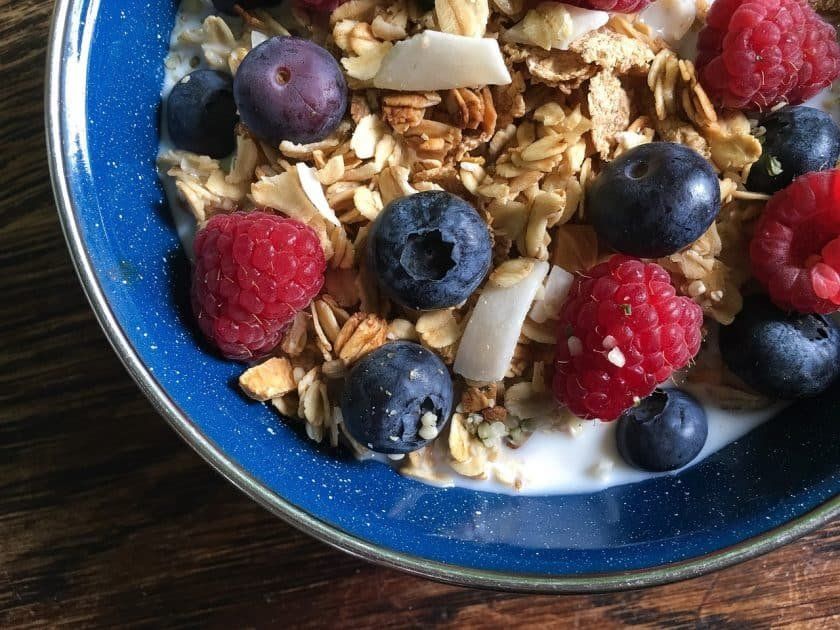 What are you eating for breakfast? Be sure to add granola to your morning meal. Granola is power food and it will help you stay energized this summer. Granola is a healthier sweet option compared to its cookie or cake counterparts. It's full of fiber, vitamin E, folate, magnesium, phosphorus, zinc, and copper. These nutrients mean that granola can help prevent heart disease and cancer.
Once you make a batch of granola you will see how simple it is. The good thing about homemade granola is that you can customize it to suit your preferences.  In this recipe, orange and peanut butter combine with granola and flax seeds to produce a great on-the-go snack for summer road trips or hiking adventures. Granola can be snacked on as-is, sprinkled over fresh fruits, or even ice cream or frozen yogurt as a sweet indulgence!
Orange and Peanut Homemade Granola
Ingredients:
5 cups Rolled Oats
1 cup Honey Roasted Peanuts
½ cup Wheat Bran
1 cup Flax Seeds
2 cups Dried Cranberries
1 tablespoon Salt
1 tablespoon Cinnamon
1 tablespoon Vanilla Extract
1 Orange, Zest and Juice
1 cup Brown Sugar
1 cup Peanut Oil or any other flavorless Vegetable Oil
2 cups Honey
Further Supplies:
Parchment paper
Sheet pans
Mixing bowls
Mixing utensils
Directions:
Preheat the oven to 200 degrees.
In a large bowl, combine all of the dry ingredients (rolled oats, roasted peanuts, wheat brain, flax seeds, dried cranberries, salt, cinnamon, and brown sugar) and set the mixture aside.
In another bowl, combine the wet ingredients (vanilla extract, orange juice, orange zest, and the oil) and whisk the ingredients together. Set the mixture aside.
Mix the wet and the dry ingredients together with a spatula until everything is coated.
Spread the granola mixture over two parchment lined sheet pans, making sure everything is in a single layer. Place the sheet pans in the oven and allow to dry out for approximately an hour.
Note: Cooking times may vary due to different ovens, but you just want to dry it out until the oats are crispy and no longer chewy. Consider turning the oven off and leaving the granola in the oven overnight to cool.  The granola can be kept in an airtight container for up to two weeks.